In an age of neo-hipsterdom, craft-beer drinking and Instagram…everyone is a photographer, just go to Braamfontein or Maboneng and you'd be hard pressed to find anyone who doesn't have a camera slinging on their neck and a selfie stick in hand. I am not saying that's wrong, of course people should do as they may, I just find group-think particularly boring, it breeds mediocrity and it stifles creativity. So you can imagine how I jumped up and down in jubilance when I found out about 'The Honey'. I thought…here is a project that is totally exhilirating, maverick and ingenious. I was also lucky to have a sedentary interview with the brains behind the project; Rendani Nemakhavhani and Kgomotso Neto Tleane, they play The Honey and Gavini, respectively. Read below:
B.O.S: First and foremost, congratulations on this project "The Honey", I don't know what it is, I am hoping to find out more from this conversation. But I know a lot of young people think this is as ground-breaking as Yizo Yizo was, when Yizo Yizo first came out. What are you hoping to achieve with this project?Rendani : Well…(giggles), when I first approached Kgomotso about it, I said I wanted to collobrate with a photographer…to take pictures of me and other women, so it was never meant to be just me as The Honey but rather a variety of women, but we changed the whole thing as we went along. But, basically I just wanted to create a beautiful photo series.
Kgomotso: About?
Rendani: About The Honey, about this girl who has all these many parts of her life…
B.O.S: Ok, I get that…so, people are going to see this project , what do you want them to walk away with? What do you want them to feel? What do you want them to think?
Rendani: Black pride mostly…and like how blackness is diverse, and how there isn't a certain type of blackness, you know like…there isn't the right type of blackness, the one that I should follow or…I also feel like because creative blackness is not represented a lot of the time, I feel like this does that. It represents alternative blackness, eish…not even alternative, it represents another type of blackness that exists.
B.O.S: Ok, and for you Neto (Kgomotso), I would imagine that you had to do a lot of acting for this, and I know you…you are not anything like Gavini, how did you prepare for this? What did you tap into to get into character?
Kgomotso: Well…with the 3rd chapter, because that's the only one that I am in…for me the reference was Yizo Yizo, so for me getting into character was just thinking about how thugs behave, how they look…their facial expressions. That was it. I didn't have to go into a rehearsal phase, I just thought about how thugs looked and behaved, that's all.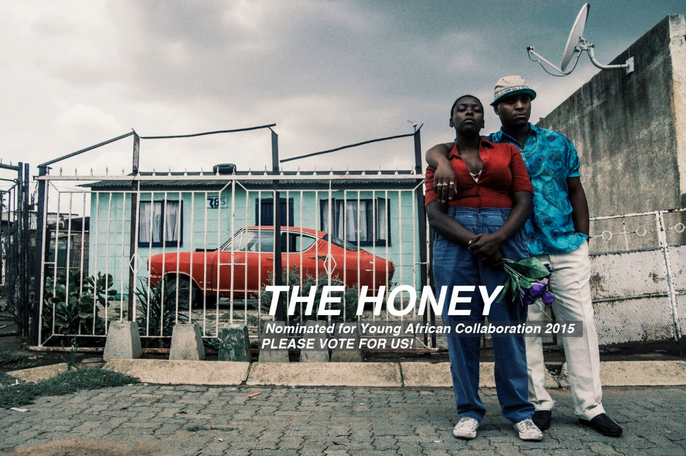 B.O.S: Alright, now that you are getting a lot of attention for this project, e.g you just got nominated for "Best African Collaboration" at the Nestling Awards, was that always part of the plan? When you were making this, did you think : we want to win awards and make money of this?
Rendani: Well yeah…we wanted to get attention, so there could be information about this, so that when we create the end product ( the end product is meant to be a book), people are already familiar with the work.
B.O.S: Can I ask when the book is coming out?

Rendani & Kgomotso: We don't know yet, we are working on it.
Kgomotso: There is 4 more chapters to come, it's a 7 chapter series, so yeah….
B.O.S: Will Neto be in all of those upcoming chapters?

Rendani & Kgomotso: We don't know that…
Kgomotso: and it's not Neto, it's Gavini (laughs)
Rendani: The things, we have themes and we work according to those themes, so for example we watched the first two seasons of Yizo Yizo and from there we went with our guts, it wasn't like…this is what's going to happen and Kgomotso this is what you are going to wear, actually Kgomotso chose his own wardrobe.
B.O.S: Oh…is that what the creative process is? Do you not know what the next chapter would look like?
Kgomotso & Rendani: (Big sigh) uhm…we know, it just that it never really comes out like we had imagine.
B.O.S: How did you guys meet and at what point did you decide to collaborate on this project?
Rendani: I knew of Neto of the internet
Kgomotso: Because I am an internet sensation (laughs)
Rendani: (laughs) I had checked out his work, because we are have similar interest like Taxis, Joburg…that kind of thing, so late last year I contacted him…did I send you and e-mail or did I call you?
Kgomotso: Uhm…you actually sent me an inbox on Facebook, and you were like Yo! I want to tell you something or Yo! I want to propose something to you
Rendani: Oh yeah…
Kgomotso: And then we met up, she told me about The Honey, I was meant to just shoot the first chapter and then she would go on to collaborate with other photographers for other chapters
Rendani: But we liked how the first chapter came out, so we decided to stick together
Kgomotso: She decided that (laughs).

To be continued…