Join the movement – get your next Samsung mobile device at a reduced rate
JOHANNESBURG, South Africa, February 20, 2014 – Samsung Electronics South Africa, has announced a Smart Trade Programme; another first for the leading device manufacturer – which will see consumers trade a variety of old smartphone devices for a new Samsung phone, at a discounted rate.
"Samsung is committed to delivering smart innovations to our customers with value-added services and benefits on a wide range of devices, including access to The Kleek music streaming service, Smart Trainer and 50G Dropbox space, at no additional cost. Samsung's partnership with AlwaysOn also offers all Samsung users 1GB of free Wi-Fi data per device, every month for 12 months, using the country-wide network of more than 1 200 local AlwaysOn hotspots. Additionally, the GALAXY S4 and Note 3 include Accidental Damage from Handling (ADH) warranty cover, where two screen and liquid damage repairs can be affected at no extra cost. The ADH cover is incorporated into the existing 24-month standard factory warranty. Great rewards for devices that deliver a premium experience," concluded Fleischer.
A large number of handsets will be considered as part of the trade-in programme. Devices will be graded on current condition, quoted and discounted based on three grading categories: perfect, good or non-functional/broken. Each grading category has explanatory definitions that allow for accurate a value to be attributed to the device that is being traded. Once it has been graded, the customer will receive a coupon which can be redeemed against the purchase of a new Samsung mobile device, no cash value is provided.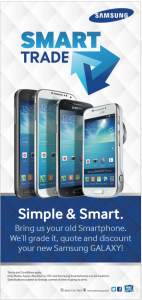 The offer is available through participating Samsung Experience Stores where a wide range of handsets can be traded-in for a new Samsung mobile device, including the GALAXY S4, Note 3 and Note 10.1.
"The introduction of the Smart Trade Programme showcases our commitment to delivering an enriched mobile experience to our consumers," said Craige Fleischer, Director of Mobile Communications at Samsung Electronics South Africa. "This will further offer much needed relief for customers who wish to move to the latest handsets at the earliest possible opportunity."
For more information, contact your nearest Samsung Experience Store:
Brooklyn: 012 346 2135/6
Canal Walk: 021 555 4683
Clearwater: 011 675 0010/12
Cresta: 011 478 5010
Eastgate: 011 615 6660
Fourways: 011 465 1466
Gateway: 031 566 6795
Ilanga: 013 742 2051
The Glen: 011 435 1680
Mall of The North: 015 265 1197
Or visit: http://www.samsung.com/za/brand/Samsung_brand.html
Terms and conditions apply.